What a success our inaugural Arts and Technology exhibition was!
Held last night in our Enterprise building, the event featured an array of artistic creations, from 3D printed shoes and phone cases, to wood and metal work, photography, ceramic and glass pieces to textiles, paintings, drawing and mixed media.
Executive Principal Barbara O'Brien said the amount of art on display was a testament to how hard the students have been working in classes this year and showcased the diverse talent among our young people at GSSC.
"Looking at the great turnout tonight, I think this will become a regular feature on the GSSC calendar and will become bigger and better each year," she said.
"Walking around this evening and viewing the art and tech on display has been a proud moment and a reminder of what wonderful talent we are nurturing here at our college.
"I am so pleased to see so many families, friends, staff and students here tonight in support of our designers and artists and I commend each and every student who has entered a piece and contributed to this successful event."
In closing the exhibition, local artist Tank announced a number of awards in junior and senior categories for art and technology. Tank said judging the pieces was a tough gig, given the calibre of talent. Congratulations to the following students:
Junior Technology Award: Chris Brown, Year 9
Senior Technology Award: Stela Hoxha, Year 10
Junior Art Award: Brooklyn Eastwood, Year 8
Senior Art Award: Isabelle Lavis, Year 11
Following the Art and Tech Exhibition, our crowd was treated to the musical talents of our VCE students, Leanne Luzuriaga and Brodee Sinclair. The Year 12 students performed to an audience of family, friends, staff and peers in the Theatrette as part of their Music Performance Unit assessment.
As part of this technical work, the students had to share with the audience and demonstrate how they approached reimagining an existing music piece.
Leanne and Brodee were supported by Year 10 students Liam Kellett and Nate Traianidis, Stephanie Ludlow of Year 11 and music staff Ms Gibbs, Ms Magee and Mr Harley.
Well done Leanne and Brodee on your performances and wishing you all the best in your studies.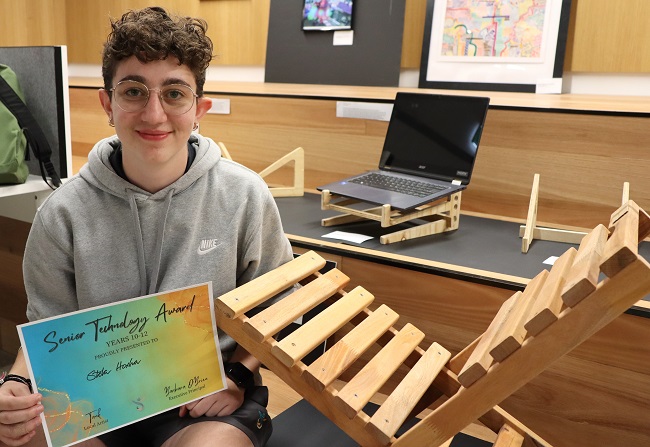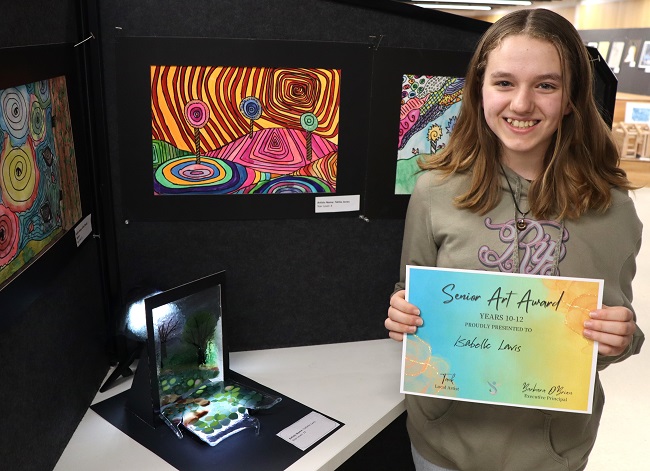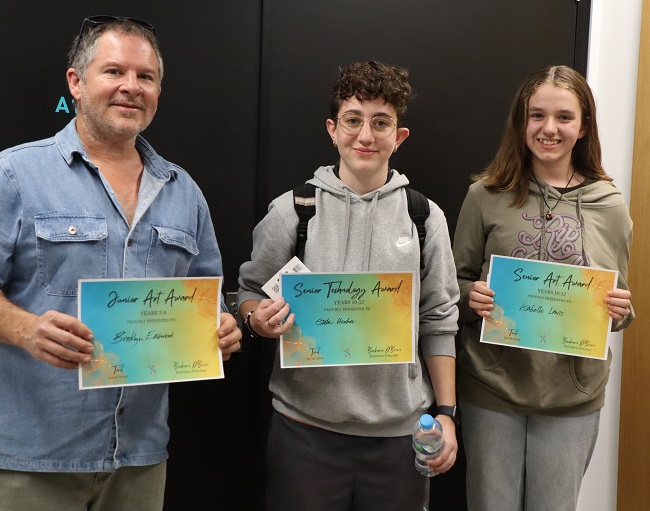 Senior Technology Award winner, Stela and Senior Art Award winner, Isabelle with local artist, Tank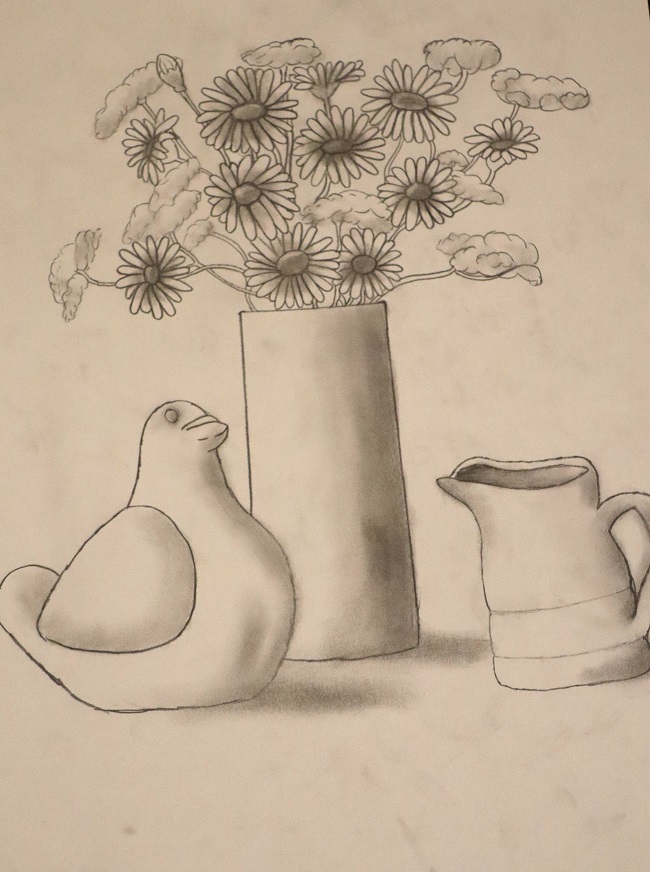 Junior Art Award winner, Brooklyn's piece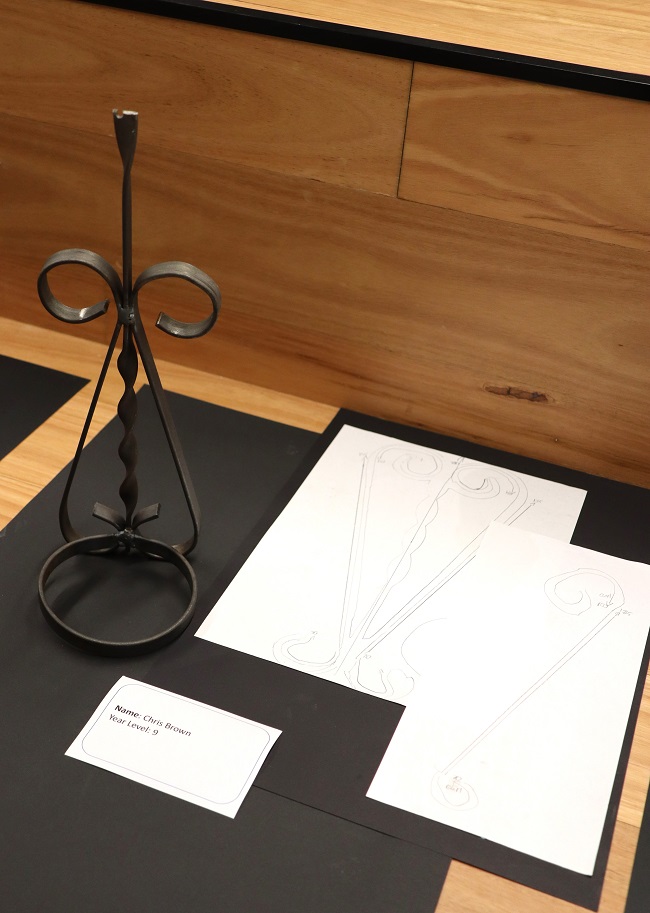 Junior Technology Award winner, Chris' metalwork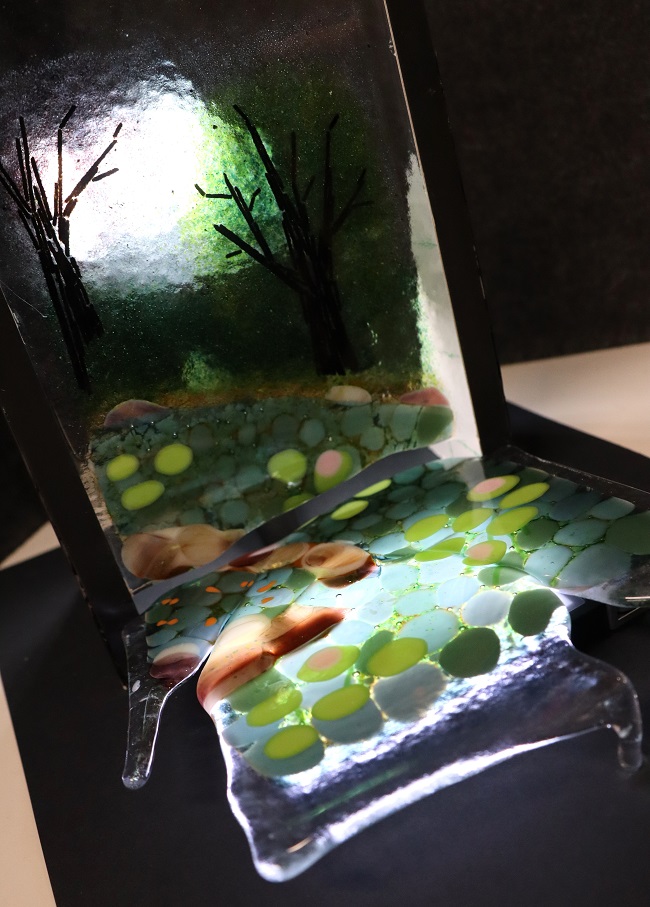 Senior Art Award winner, Isabelle's glass work