We believe it is the right of every student to develop a sense of self-worth through positive and appropriate leadership opportunities. At our college, student leadership is about involving students in a purposeful and meaningful way to extend and use their individual gifts and talents. A culture of leadership is encouraged through leadership positions that are structured to allow interested students to experience positions of responsibility and develop effective leadership skills.
Leadership opportunities across the college emphasise service to others, teamwork, taking initiative and developing responsibility. Leadership opportunities also arise through the co-curricular program including sport and cultural activities, the outdoor education program, the music program, the arts, drama and dance, community service activities as well as election to student leadership roles.
In Year 7, the leadership focus is on responsibility and independence.
In Year 8, the leadership focus is on self-awareness.
In Year 9, the leadership focus on developing resilience and a sense of community.
Students in the senior years have many opportunities to contribute to a range of shared leadership responsibilities with articulated individual and group roles and responsibilities.
College Neighbourhood Captains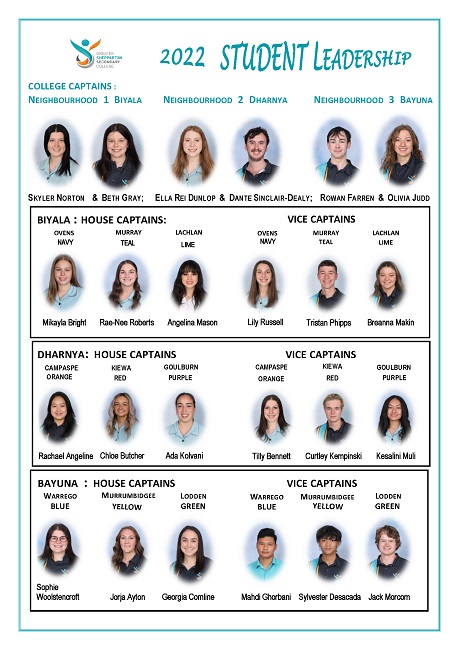 College Music Leaders:
Josh Mansur, Kesalini Muli, Stephanie Ludlow
College Indigenous Leaders:
Bailey Armstrong, Frances Atkinson,
College Multicultural Leaders:
Nadia Niyubushobozi, Reyhaneh Hosseini, Sione Atu, Nida Ali Bangash, Sabah Tarsha, Widya Ratminingsih
College Environmental Leaders:
Merve Tanrikulu, Jasmine Angeline, Maddison Ryan, Matilda McKenzie
Student Representatives:
Seniors: Alisha Schippl - President; Paris Mercer - Vice President; Matthew Hanns - Secretary; Caly Mills - Treasurer
Year 7-9: Miley Richmond (8) - President; Ana Morrison (9) - Vice President; Kaileigh Wilhelms (9) - Secretary; Lilly-Rose Jackson (8) - Treasurer
Members: Gabriella Sinclair (9); Rylie Bentley (9); Kabin Aryal (8); Cody O'Donnell (7) ; Taylee Branch (7)