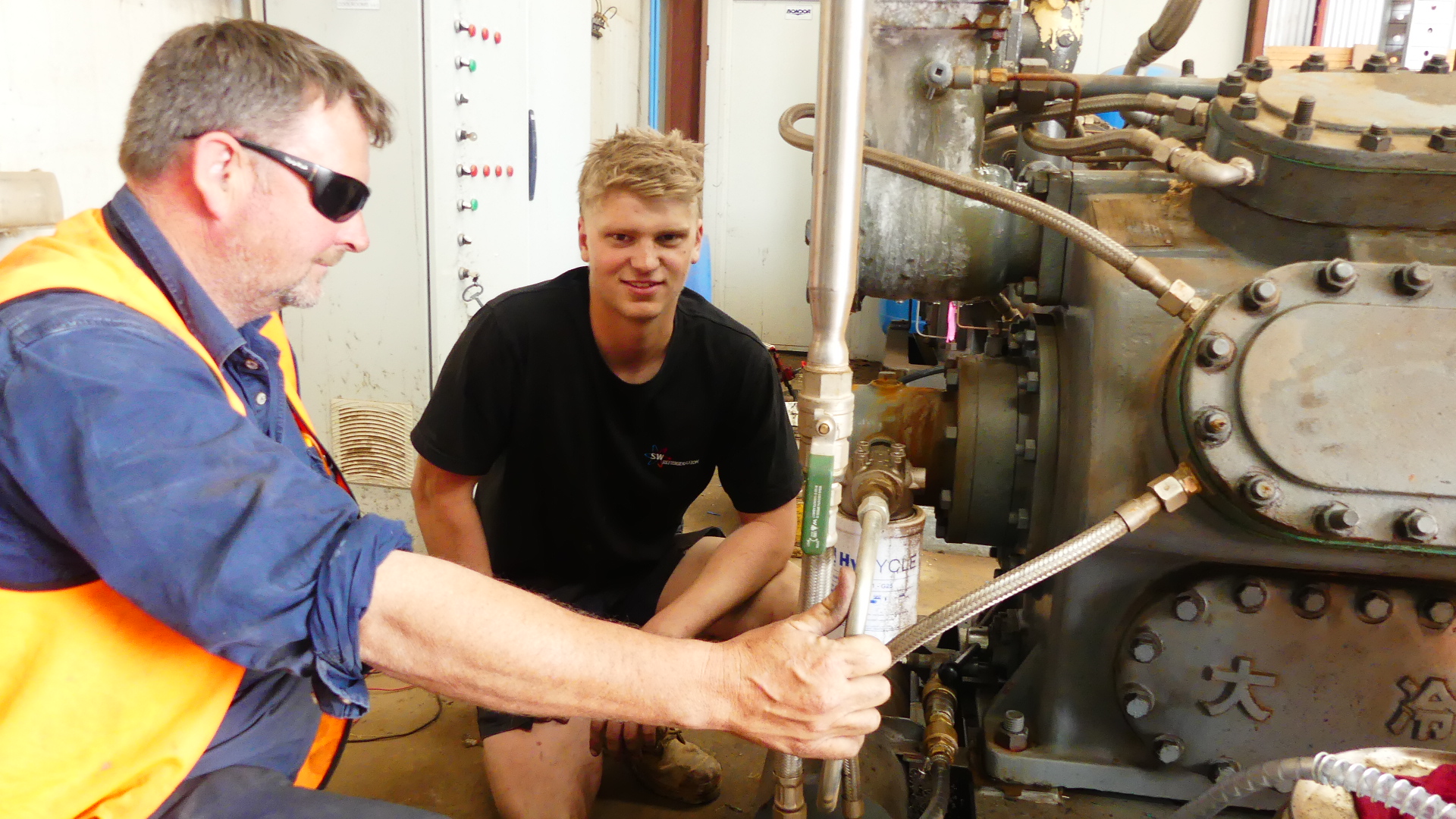 Callum at work with his supervisor Shayne Wilson
While most look forward to Friday and the end of the working week, Greater Shepparton Secondary College student Callum Howden hangs out for Thursday.
As a school-based apprentice, that's the day he leaves the classroom and joins the team at SW Refrigeration at Bunbartha, just north of Shepparton.
From there, his work day can take him anywhere – from fixing a drink machine at a local café to installing critical, high-tech cool room refrigeration at an orchard.
"I've never really been one for sitting in a classroom all day," Callum, in Year 11, said. "For as long as I can remember I've always enjoyed being outside, getting my hands dirty and fixing things."
Callum's two-week work experience stint at SW Refrigeration in Year 10 so impressed the family business that owners Shayne and Kim Wilson were delighted to take him on as a school-based apprentice last December.
"He has an excellent work ethic and a real willingness to learn," Kim said. "We specialise in industrial refrigeration and it can be dirty, physical work – Callum's technical ability, attitude and values will take him far."
He already has come a long way in a short time – being named one of just three finalists in the School-Based Apprentice of the Year category of the prestigious Victorian Training Awards.
A student at Wanganui campus at GSSC since Year 7, taking on an apprenticeship while at school makes for a much different routine than his peers. Callum, 17, splits his time between Wanganui, his workplace and GOTAFE at Wangaratta and Shepparton, where he is completing an Electrotechnology Certificate II at part of his Vocational Education and Training qualification.
"But Thursday is my favourite day of the week," Callum said. "I love the work – I tried a lot of trades and it's been industrial refrigeration and air-conditioning that has interested me the most."
Callum said he is grateful to GSSC for the flexibility they've given him while he pursues a career path he hopes will lead to one day running his own business.
"The teachers have been very good to me and are really understanding when sometimes I have to do an extra day or two at work," he said.
GSSC Careers Leader Graeme Crosbie said Callum was one of the most impressive students he has come across in 30 years of teaching.
"He is an outstanding example of a student thriving in a school-based apprenticeship and an important role model for others considering this kind of training."
Rachael Howden said the program was a perfect fit for son Callum, who spent his childhood fixing things in the shed with dad Ash and helping out on the family's hobby farm at Tallygaroopna.
"He has always been very focused and capable when it comes to figuring out how things work," she said.
Finalists in the Victorian Training Awards will feature in online video presentations in coming weeks.
Now in their 66th year, the awards celebrate training excellence and foster connections between students, teachers, employers and industry.
You can follow the Victorian Training Awards on social media to view all of this year's finalist videos:
·