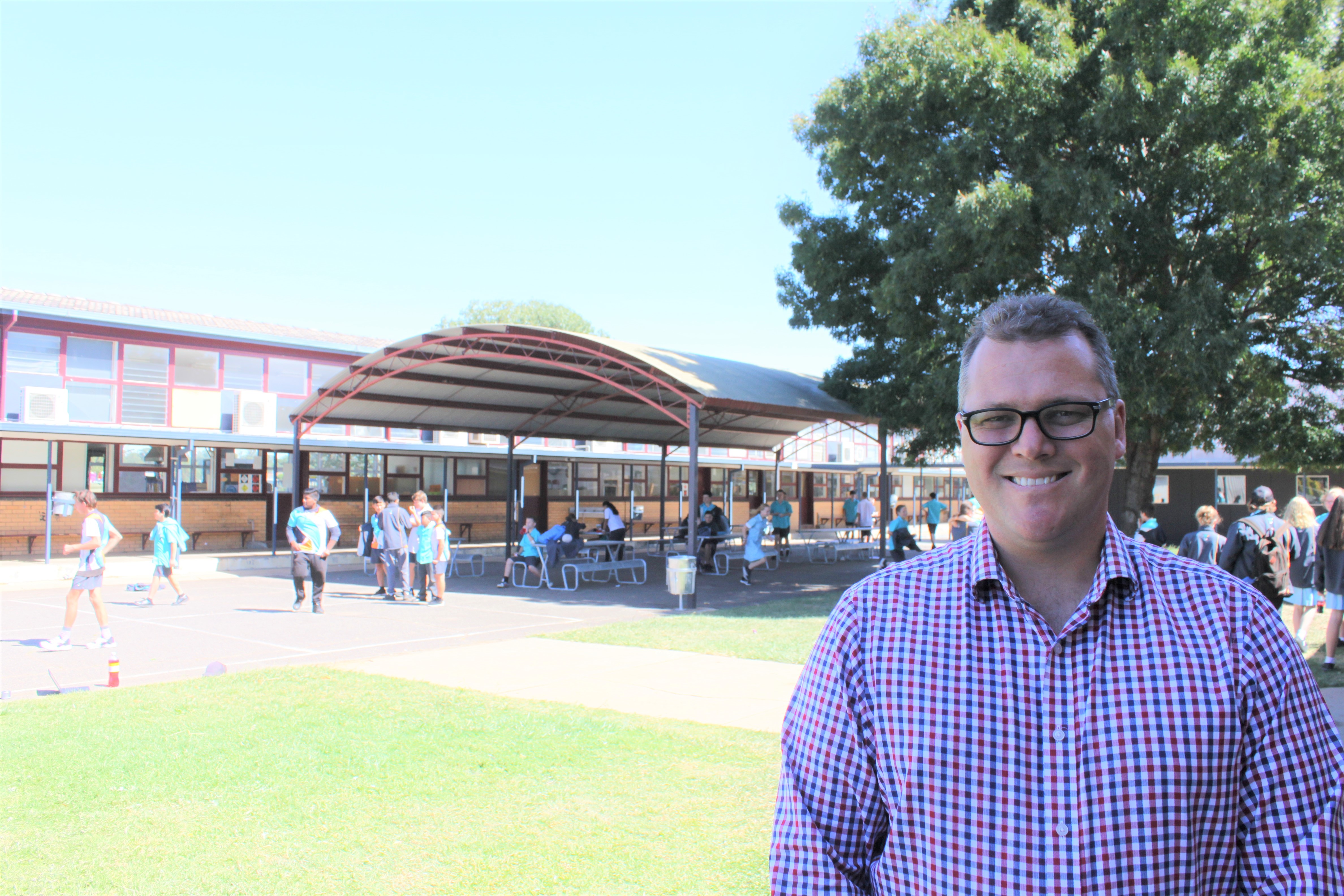 Quiche, toasted sandwiches, milk, fruit and more was on the menu for the final day of Greater Shepparton Secondary College's School Breakfast Club on Monday, 23 March.
Providing a nutritious lunch at 1pm followed breakfasts that were served up at GSSC's Mooroopna, McGuire and Wanganui campuses in the morning – as they have every morning – during Term 1.
With the term ending early, leftover food was then packaged up on Monday for children to take home for the holidays – helping less advantaged families and those affected by supermarket hoarding in recent weeks.
"The Breakfast Club has been one of the great success stories for the new college," Nick Bamford (pictured), GSSC Director of Wellbeing and Inclusion, said.
"The research is clear – having breakfast has a positive impact on our students' health, how they get along at school and their ability to concentrate and learn in class.
"At the end of the day it improves attendance at school and lifts academic outcomes."
Nick said anywhere from 200 to 350 children were fed every morning during the term, with GSSC accommodating kids at special Breakfast Club facilities set up and operating at all campuses.
The campuses take a breakfast-for-all approach to the program however it is of particular benefit to the estimated one-in-five children in our region who might otherwise arrive at the school gate having not had a nutritious start to the day.
"Teachers report these kids are far more likely to manage the demands of a normal school day when they've had a good breakfast," Nick said. "The clubs also provide an inclusive and engaging place for them to start the day, and to learn about the benefits of healthy eating."
The School Breakfast Clubs were introduced to GSSC this year as part of a range of initiatives to support students and parents at the new college.
The program began in 2016 as part of a partnership between the Victorian Government and Foodbank Victoria. By the end of 2020, School Breakfast Clubs are expected to be operating from 1000 Victorian secondary and primary schools.
Snapshot: School Breakfast Clubs
What: Program to provide breakfast to disadvantaged students who might otherwise go through the school day hungry.
When: Breakfasts served every morning at school. Recent research has revealed that students not having breakfast at home often also missed out on lunch and healthy food over the school holidays. To address the issue, lunches and take-home Holiday Supply packs have been added to the program.
Where: Breakfast Clubs take place at school, with cooking, cleaning and common area facilities to promote an inclusive, healthy atmosphere.
Why: The program seeks to address the impact of food insecurity on learning, with a focus on improving educational outcomes for students. Having breakfast has been shown to have a positive impact on factors such as physical and mental health, social skills, concentration, behaviour, attendance and academic outcomes.
How: In the 2019-20 budget, the Victorian Government committed $58 million over four years to expand the School Breakfast Clubs Program to include lunches and school holiday food supplies. The program is administered through Foodbank Victoria which has been funded to help schools launch the program, provide ongoing program support, support schools in ordering food and providing deliveries.
Who: Eligible schools are chosen on the most recent Student Family Occupation Education (SFOE) index data (an accurate measure of disadvantage). Schools can tailor their School Breakfast Club program to the needs of their students and school community.