A Model for Greater Shepparton Secondary College
Overview
Healthy and happy students have a much greater chance of reaching their potential. That is why Greater Shepparton Secondary College has dedicated resources, staff and adopted a proven, professional structure to ensure student wellbeing from day one.
Student Support Teams, comprising wellbeing and health professionals, integration, learning and intervention specialists, will be in place at each campus when the new College opens in 2020. They are led by local Educational Developmental Psychologist Nicholas Bamford – a first for Greater Shepparton.
To ensure these staff are most effective, all College students will be assigned a Learning Mentor to monitor their wellbeing, learning progress and be the first point of contact for parents.
Learning Mentors are supported by a House Leader and Neighbourhood Leader, so any barriers to learning – be they physical, mental or material – are identified early and effectively managed with the level of care required.
Health and Wellbeing has always been a priority for our schools and students currently receiving support services will continue to have this support next year. In addition, the merger of our four secondary schools has allowed us to identify "best-practice" and enhance this support into 2020.
Our priorities
Greater Shepparton Secondary College is adopting a "whole school" approach to supporting students to realise their potential and contribute to a positive environment for learning. Our priorities are to:
Foster an environment of inclusion and engagement
Build a culture of high expectations
Actively promote safety and wellbeing
Support students and manage behavior
Strengthen the social and emotional wellbeing of students
Address the physical health needs of students
Address the psychological and social wellbeing of students
We know that students require six key pillars of support for their overall wellbeing and to be well adjusted at school. The loss of one of more of these supports has a high impact on a student's wellbeing and ability to learn.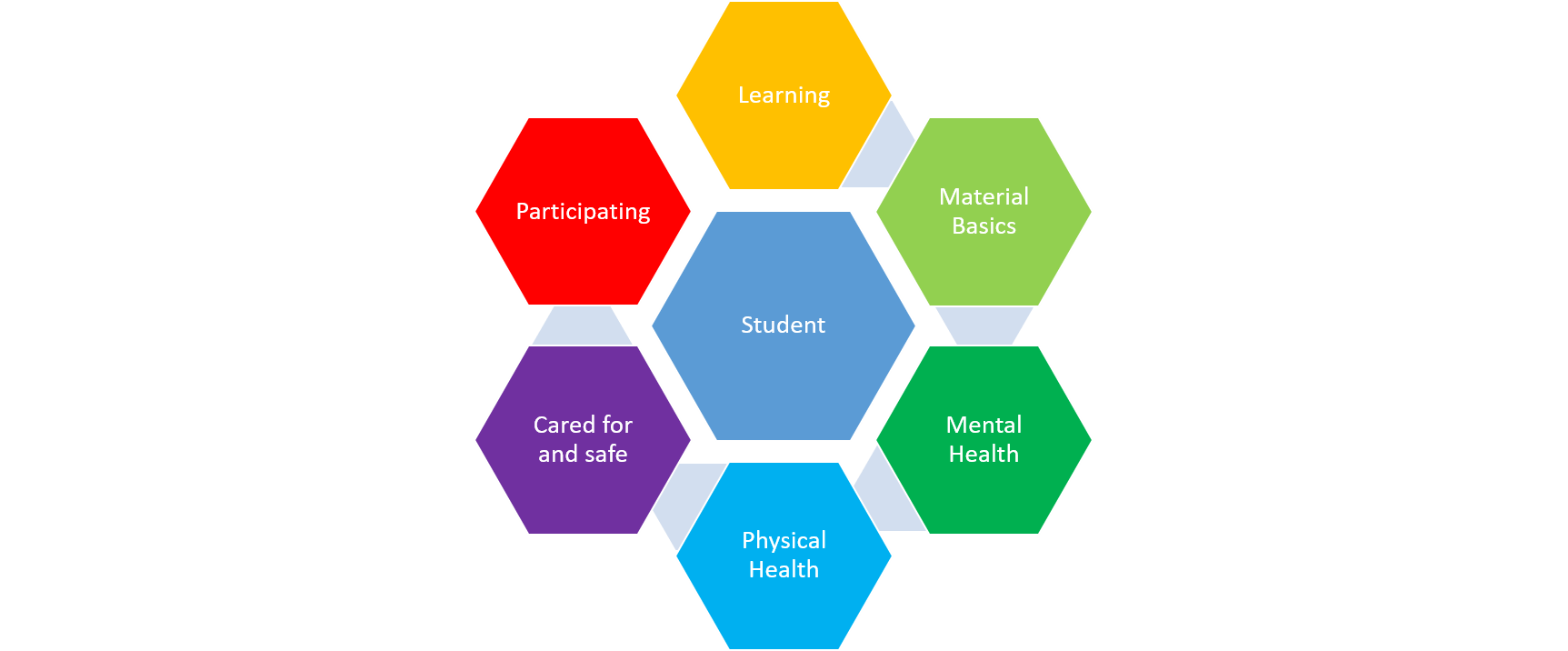 Students require the Material Basics to learn. This isn't just pens and paper, but wholesome food and sufficient sleep. Students require good Mental and Physical Health to learn. They need to be in a Caring, Safe environment to learn. They need to Participate and feel included and supported in their learning. They need quality teachers and resources to Learn effectively.
The Health, Wellbeing, Inclusion and Engagement Model identifies students encountering any of these high impact barriers to learning. It also provides the Neighbourhood support structure to reduce and remove these barriers.
A student-centred approach
Health, Wellbeing, Engagement and Inclusion support for every student of Greater Shepparton Secondary College is the responsibility of all staff, with a student-centred structure in place to ensure any barriers to learning are identified early and managed appropriately .
From 2020, students will be allocated a Learning Mentor who will track their learning progress and be the main point of contact for parents and caregivers.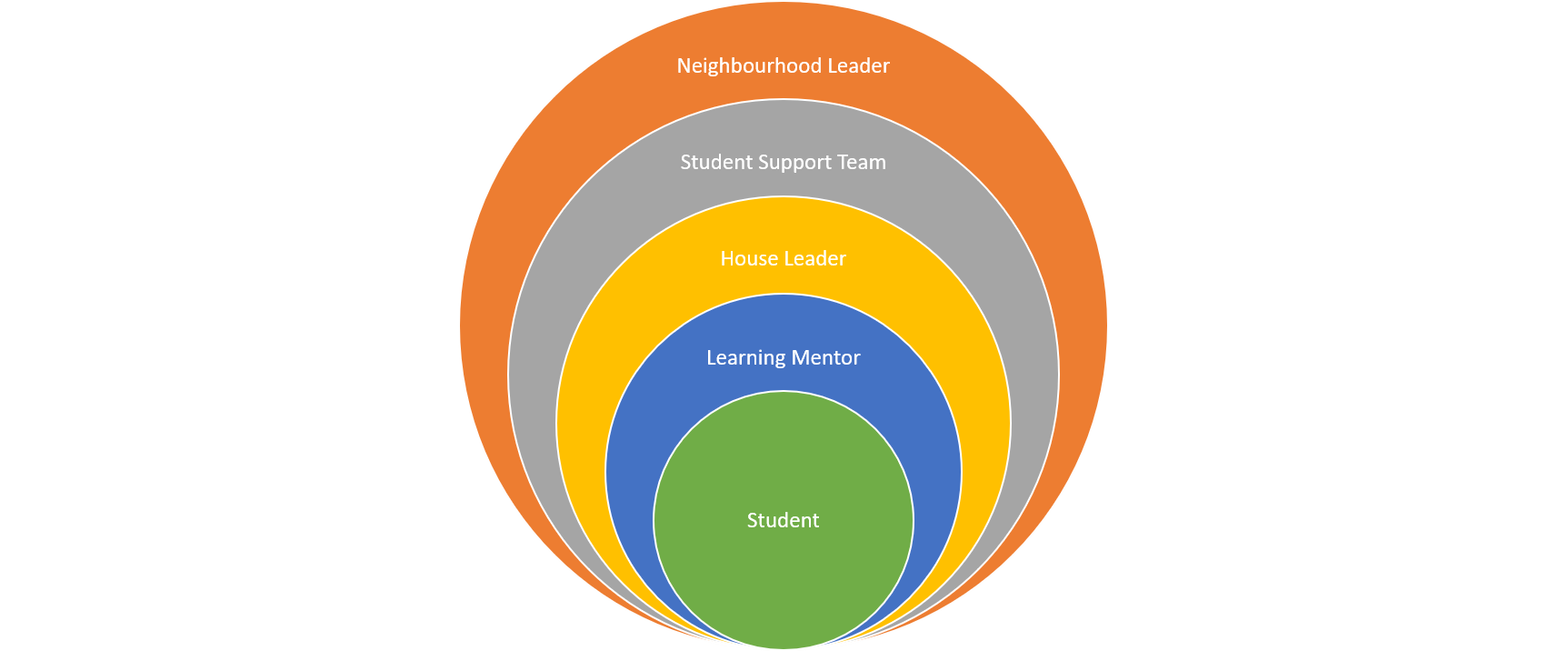 Learning Mentor
Learning Mentors will be responsible for about 25 children. Applying Social and Emotional Learning curriculum, these mentors will develop relationships with students and record key outcome measures around learning, engagement and wellbeing.
Importantly, the Learning Mentor will be the first point of contact for parents or carers to discuss any aspect of student learning and wellbeing.
House Leader
Students who require additional support will have the "wrap around" care of the House Leader. This person supports Learning Mentors to ensure their adherence to Social and Emotional Learning and to track key outcomes for the learning, participation and wellbeing of students.
House Leaders will work with the specialist Student Support Team to address any student engagement and inclusion issues. They will also be the first point of contact to address any student management issue.
Student Support Team
Students who require specialist support will receive the care and attention of Student Support Teams. These comprise wellbeing and Allied health professionals, integration, learning and intervention specialists.
These teams, led by our local Educational Developmental Psychologist, will be in place at each campus when the new College opens in 2020. They are the next level of care in the "wrap-around" model encircling and supporting each and every student.
Neighbourhood Leader
Students, Learning Mentors, House Leaders and specialist staff are further supported by a Neighbourhood Leader. Managing around 300 students, they ensure those involved in the student support structure are well managed and meet regularly to track student learning, health, wellbeing, engagement and inclusion.
Importantly, all key support staff – from teachers, mentors, specialists and leaders – sit together in the Neighbourhood structure. This ensures an inclusive, informed and supportive team with students at the centre of all that they do.
What underpins the Model
Greater Shepparton Secondary College has adopted proven programs, practices and policies to support students in their learning. These include:
Multi-tiered Systems of Support (MTSS) - a way of thinking and doing that uses high-impact, evidence-based pedagogical practices to ensure every student receives the appropriate level of support, instruction and adjustments to be successful.
School-wide Positive Behaviour Support (SWPBS) - a framework that brings together school communities to develop positive, safe, supportive learning cultures. It assists schools to improve social, emotional, behavioural and academic outcomes for students.
Team Around the Learner (TAL) - a framework to support learners at risk of disengaging that is individualised, holistic and team-based. Key people work together as a team to coordinate a plan to meet the needs of the learner and re-engage them in education and learning.
Bullying, racism and discrimination will not be tolerated, and will be dealt with in accordance with the Greater Shepparton Secondary College's Bullying Prevention Policy. The College is committed to ensuring every member of our school community is treated with respect and dignity, in accordance with our Inclusion and Diversity Policy.