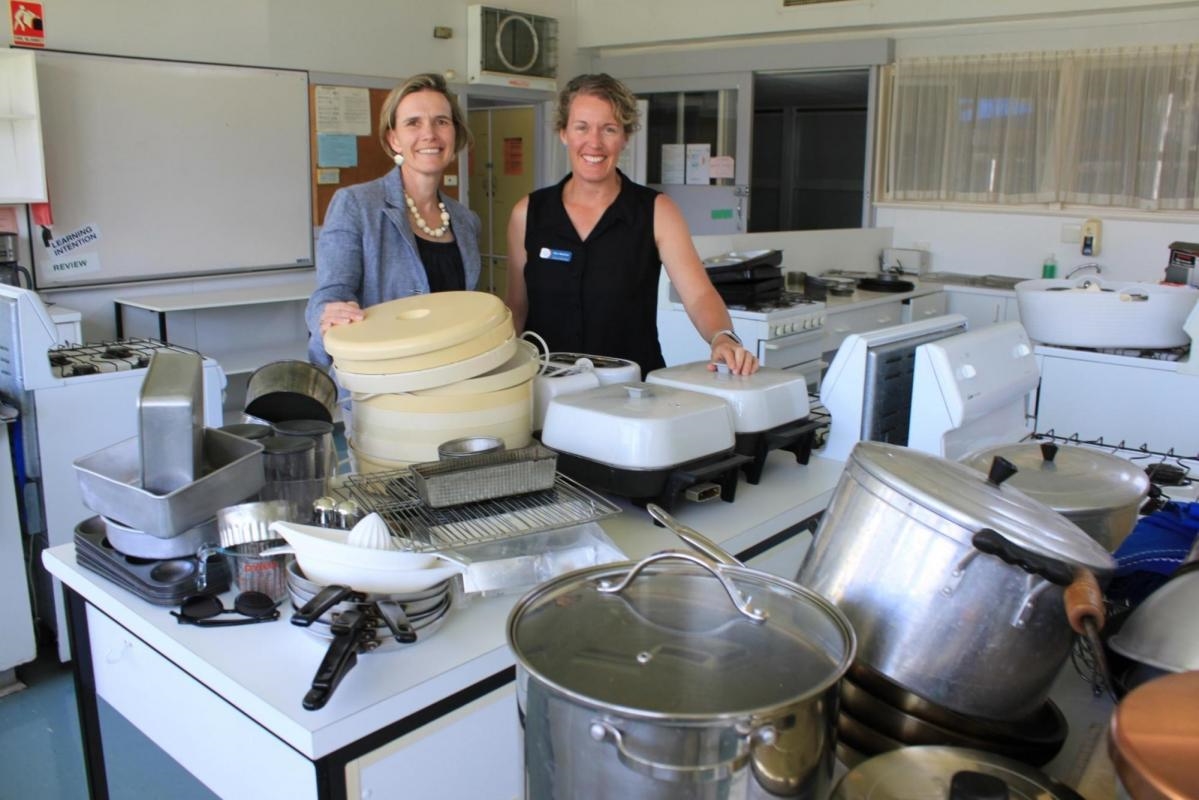 Fiona Smolenaars (left) and Kim Merkel take stock at Shepparton High School
Charities, not-for-profit groups and other schools recently descended on Shepparton High School to ensure leftover goods go to a good cause.
Shepparton and Mooroopna Vinnies, the Salvation Army and niche community groups were invited to the school to fill boxes with books, pots, pans, cutlery and other kitchenware before the site is closed to make way for construction of a new state-of-the-art high school.
Business machines, sporting equipment and valuable school resources needed for the new school have already gone to the campuses of Mooroopna, Wanganui Park and McGuire, which combine next year as Greater Shepparton Secondary College (GSSC).
Important memorabilia and historical items from Shepparton High School have been placed in storage and will be returned to the site when the new college buildings open.
Marilyn Mancini, the school's business manager, said that still left a lot of surplus goods, like library books and kitchenware from the school's food technology rooms.
She said the region's state primary schools had first pickings of the goods and after they took what they needed, the doors were opened to community groups in December.
For Fiona Smolenaars of Greater Shepparton Lighthouse, the timing was perfect for the Family Haven at Mooroopna.
"The Haven is a safe, supportive space for isolated families wanting to connect with the community," Ms Smolenaars said.
"We start operating in January and we've just set up a kitchen, because families cooking together really breaks down barriers. Lighthouse is really appreciative of the school sharing its resources – it really will make a big difference for our facility."
Kim Merkel, of St Anne's College, said the new school at Kialla Lakes had a project room with a kitchen and was also looking to boost its library resources.
"We started operating this year with a lot of empty cupboards and we've been buying resources as we go," she said. "It's fantastic how Shepparton High School has opened up their school to help out other organisations."
In the school's final week of operation, the Salvation Army sent a truck to collect remaining goods for eventual re-sale or donation.